FPOE-DMG-EZW
DC12-56V Multi Gigabit Wide Temperature/Voltage to 4Pair 90Watt PoE++ Adapter
CERIO FPOE-DMG-EZW is a Passive type DC12-56V Multi Gigabit Wide Temperature/Voltage to 4Pair 90Watt PoE++ Adapter supports wide range DC 12-56V input voltage. It can automatically boost and conversion to the best transmission performance PoE 56V output. And the hardware design for PoE output power safety has a max. limit of 90 Watt. For the environment only available with 12/24/37.5/48V power voltage configuration, it automatically boosted to PoE 56V output to PD device through the screw terminal block power input, it provides the best and economical solution.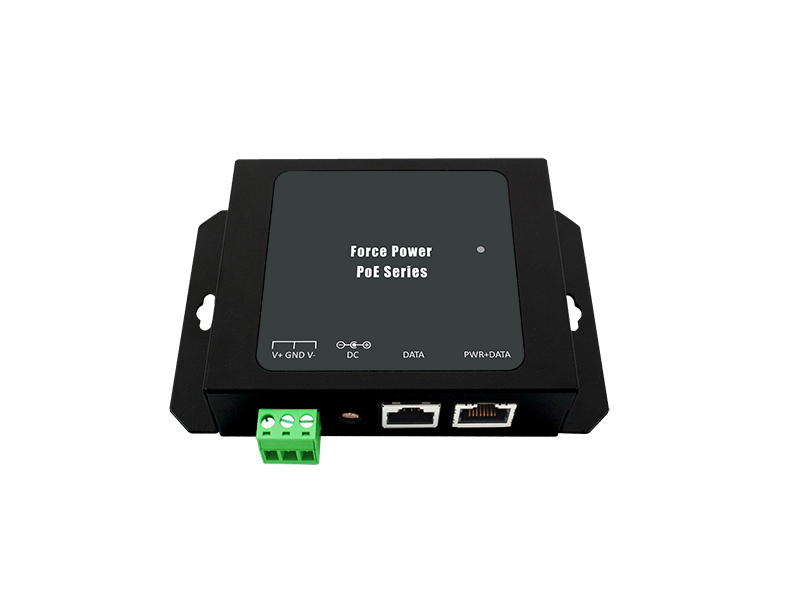 POE vs. Deployment Applications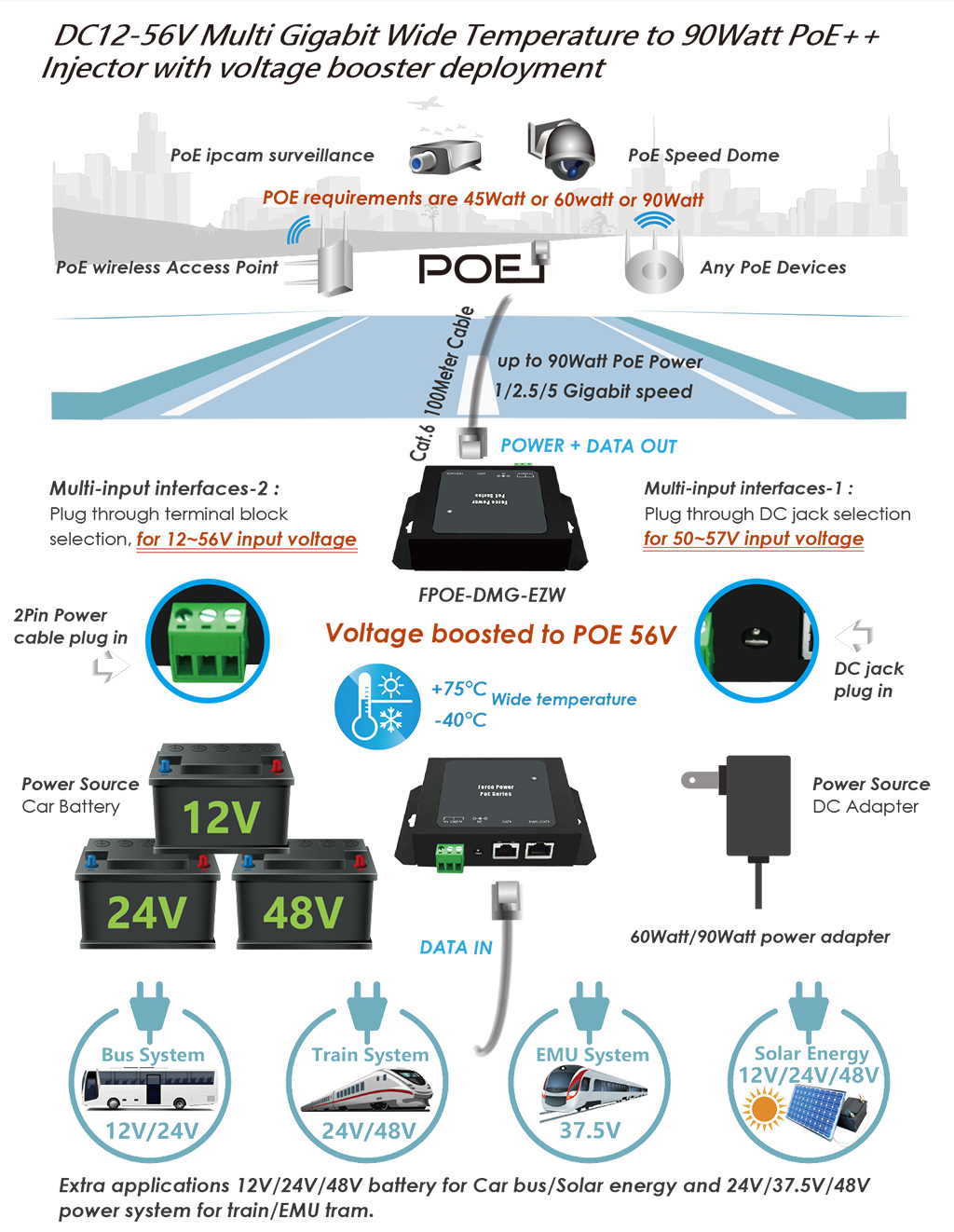 Higlight Features
Complying with IEEE 802.3 10Base-T, IEEE 802.3u 100Base-TX, IEEE 802.3ab 1000Base-T and IEEE 802.3bz 2.5G/5G BASE-T standards.

Supports Multi Gigabit (1/2.5/5Gbps) Ethernet connection ability.

Supports a wide range input voltages of 12~56V. It can be automatically boosted and provide 802.3bt PoE Class8 and backward power level PD device for PoE 56V power output.

Supports two power interface: Supports screw terminal power input for power boost system used and extra DC power input for PoE constant voltage used.

Provides 802.3af/at/bt (Passive) POE power level and support passive PSE/POE Power Over Ethernet function, Max PoE Output up to 4Pair 90Watt.

Supports -40° ~ 75° C wide temperature design which can withstand various high and low temperature environmental applications.

Provides a durable and reliable metal housing design.

Over Current Protection & Short-circuit Protection.

Plug-and-Play, requires no configuration.

Supports desktop, wall mounting installation.
Functionality
CERIO FPOE-DMG-EZW is a great ideal for the application of vehicle power system. Ex. fixed or mobile batteries, solar or power engine combined independent power systems etc. When the environmental input voltage range is limited to below 55V and over 12V, the POE-DMG-EZW can be used to boost voltage to the best transmission performance and compatible with IEEE 802.3bt PoE Class8 and backward PoE 56V power level output to PD device through the network cable. It's a very convenient and economical solution. The applications include 12V or 24V or 48V battery system/solar system and automotive markets, such as 24V BUS, Railway transportation or 48V power system which needs to be converted to PoE 56V power output to the powered devices, such as Multi-Gigabit PoE IP cameras, PoE video displays, PoE wireless base stations, etc.
Durable Metal Casing and Wide Temperature Design
CERIO FFPOE-DMG-EZW provides an industrial durable and high-reliability metal case and supports a wide range temperature -40° ~ 75° C design. It supports wall mounting installation, which fully meets the application requirements in various environments. The wide temperature design allows the equipment to operate stably in extremely low and extremely high temperatures, making it the best helper for enterprises.
Long Distance Application
CERIO Multi-Gigabit Wide Temperature POE+ Injector with voltage booster can provide both data and power for distances of up to 100 meters (328 feet) from the power source when using CAT6 or up cabling.
ESD Protection
The FFPOE-DMG-EZW supports ESD, Electro Static Discharge protection includes Over Voltage protection and Short Circuit Protection ensuring device safety.
Easy installation
Plug-and-Play, requires no configuration.
Product Application
CERIO POE-DMG-EZW can receive power systems, such as 12V/24V/48V fixed or mobile battery or Solar panel through the Screw Terminal Block, then boost and conversion to compatible with IEEE 802.3bt PoE Class8 power level and backward PoE 56V output to the PoE PD devices, and providing efficient application solutions for the battery, solar energy systems, and BUS/MRT/Trains transportation systems.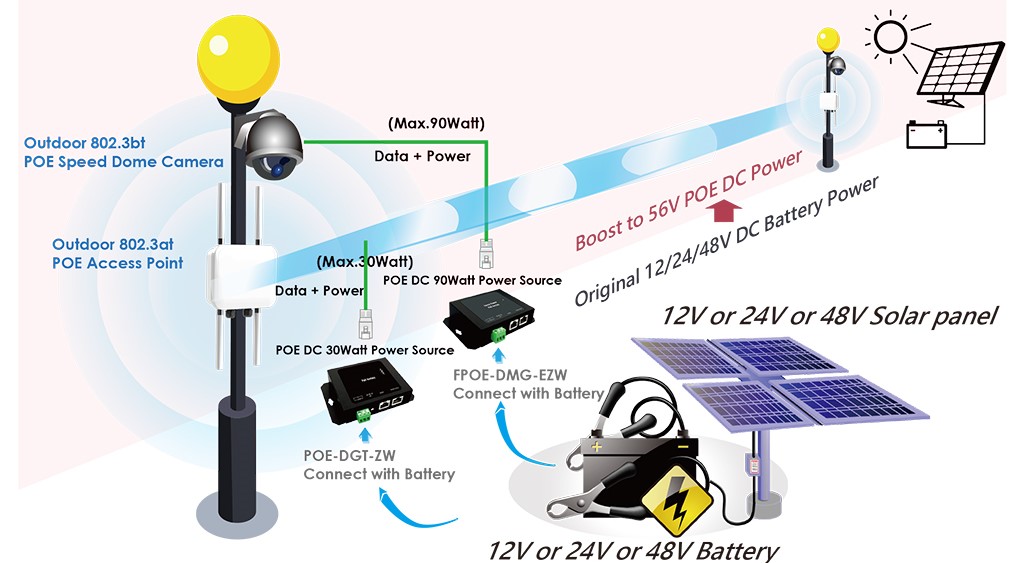 CERIO POE-DMG-EZW supports an additional 90Watt power extension function. By using the included POE Kit and DC to DC power cable, you can easily expand the power to a multi-port POE switch. Except for extending the distance of power and data, it completely solves the power requirements of multiple POE powered devices that required in the environment. The simple plug-and-play connection provides a better PoE integration application solution for where the power source is not readily available.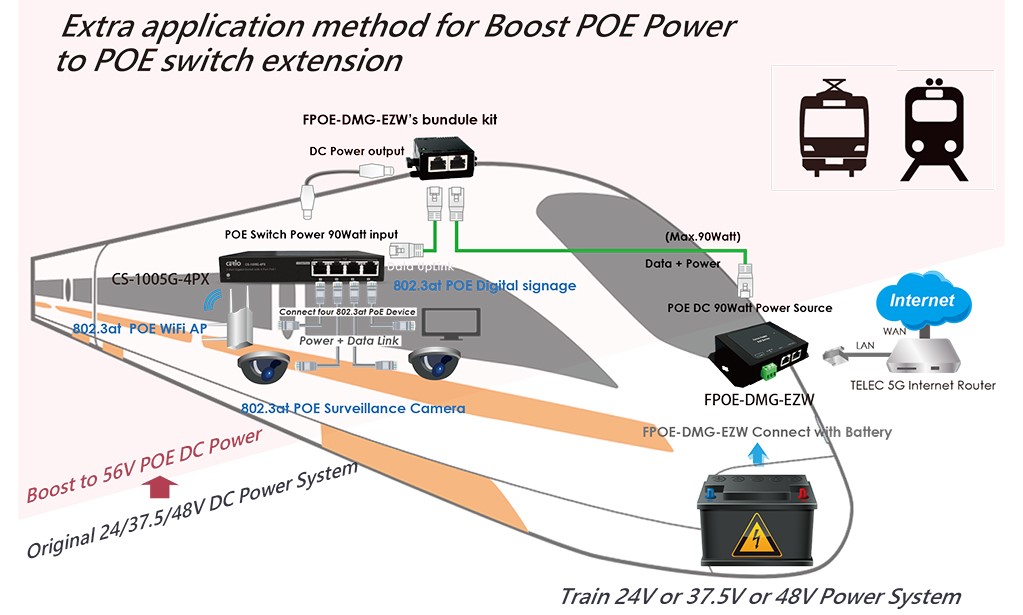 CERIO POE-DMG-EZW can use as a boost adapter for power over Ethernet application, also can be used with CERIO POE splitter which can receive network power + data, then separate to only DC/Power output and only Ethernet/Data output. It supports 12V, 19V and 24V DC output adjustable via DIP switch. For network devices that only support DC Input, it provides an economical and affordable solution.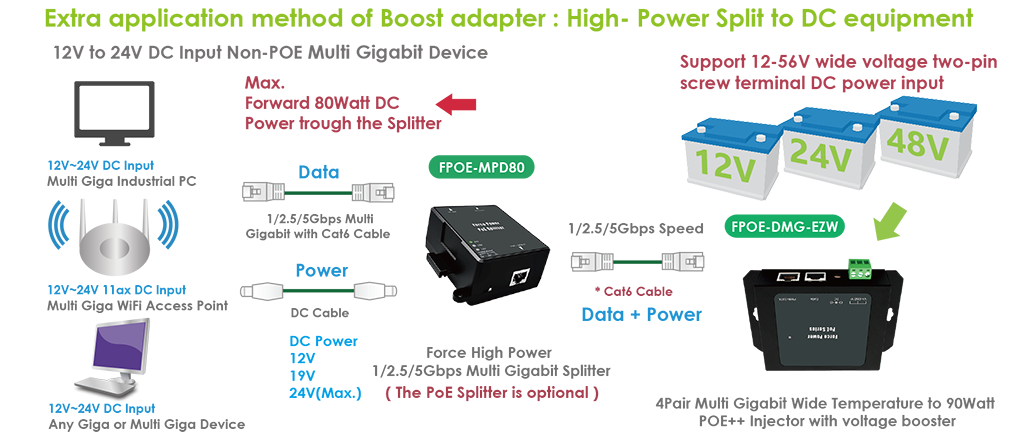 Hardware Overview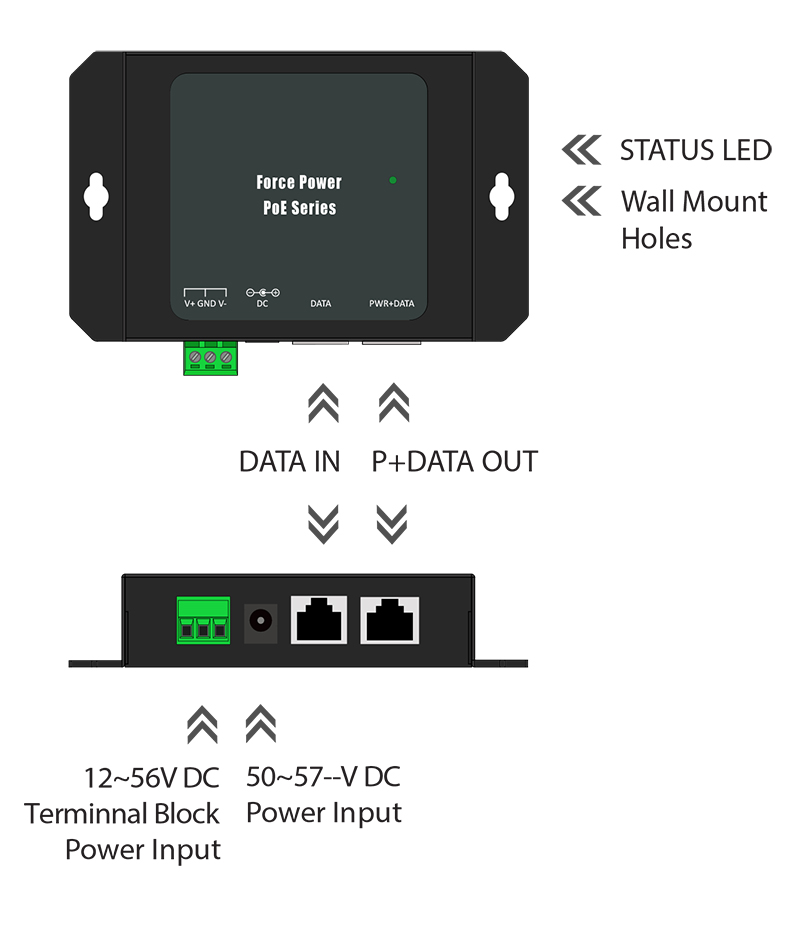 Standards & Hardware Specifications

Standard

IEEE802.3 10BASE-T




IEEE802.3u 100BASE-TX




IEEE 802.3ab 1000BASE-T




IEEE 802.3bz 2.5G/5GBASE-T

Network Media

100BASE-TX : UTP Cat. 5 or up




1G/2.5G/5GBASE-T : UTP Cat.5e or up

Data Transfer Rate

10M/100M/1G/2.5G/5G (Half-duplex),




20M/200M/2G/5G/10G (Full-duplex)

PoE Type

Passive POE

Data PIN

PIN 1/2,3/6 & 4/5,7/8

Power PIN

End-span (Type-A): PIN 1/2,3/6
Mid-span (Type-B): PIN 4/5,7/8)


Ethernet Connector

RJ-45 x1 : Data
RJ-45 x1 : Power + Data

Power Interface

Output: RJ45 Passive 802.3bt PoE Out
Input: Screw Terminal Block In (Main PWR input using for boost voltage system) & DC In (Extra PWR input using for PoE constant voltage input)

ESD Protection

Supports ESD (Electro Static Discharge)
Over Voltage protection and Short Circuit Protection

Environmental & Mechanical Characteristics

Max Power Output

4Pair 90Watt

Power Requirement

12~57V Power source

Input Voltage

Overall wide voltage range : DC 12 ~ 57V
Auto booster voltage range : DC 12 ~ 55V
(When using STB input for auto boosed voltage and conversion to compatible with 802.3bt power level PoE 56V output)
PoE constant voltage range : DC 48~57V (When using DC Input)

DC Intput Current (Max)

DC 12V/7.5A , 24V/3.75A, 37.5V/2.4A, 48V/1.875A

LED

System: Power (Green) x1


Operating Temperature

-40° to 75° C

Storage Temperature

-40° to 85° C

Operating Humidity

5% to 90% non-condensing

Storage Humidity

5% to 90% non-condensing

Dimension ( W x D x H )

130 x 82 x 27mm

Weight ( g )

230g

Form Factor

Desktop / Wall mounting installation

Case of material

Metal 

Production Location

TW 

Certifications

FCC ,CE, RoHs compatible

 

 

Package Contents
POE-DMG Main Unit

x 1

POE Kit

x 1

Inside diameter 2.1 (PHY) mm DC to DC cable

x 1

Quick Installation Guide

x 1

Warranty Card

x 1