CS-3424G-24P
24 Port Gigabit Managed PoE+ L2/L3 Lite Switch with 4 Combo Gigabit Ports ( 400Watt Power )
CERIO CS-3000 Series Model: CS-3424G-24P is the latest powerful high-performance L2/L3 Lite 24 port Gigabit PoE switch, supporting 4 Combo Gigabit ports and compliant with IEEE 802.3at/802.3af standards. It includes 400watt internal power supply and providing 360watt PoE power budget and supports Remote on/off control, schedule of PoE power ports.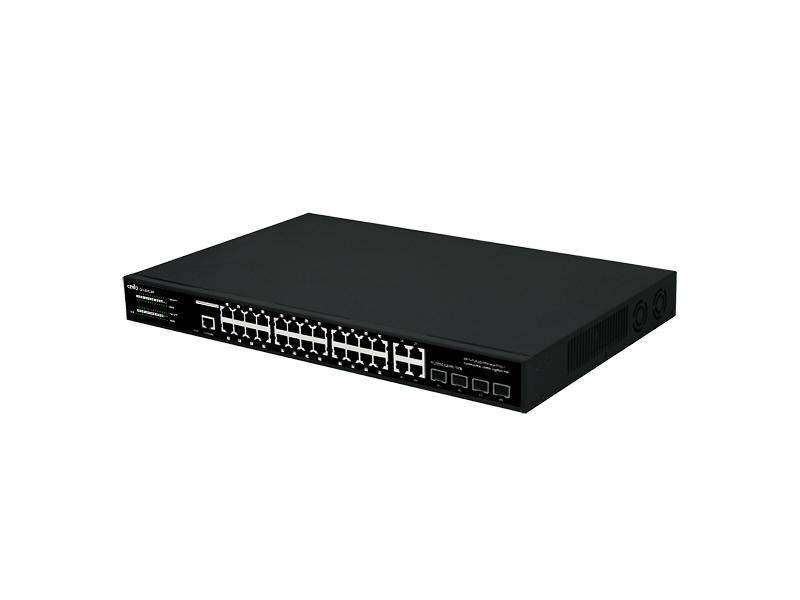 The CS-3424G-24P provides STP/ RSTP/MSTP functions and add ITU-T protocol industrial carrier grade G.8032 ERPS function to prevent broadcast storms. The management functions including IEEE 802.1Q Tag/Port Based VLAN functions, IEEE 802.1p-based/Port-based QoS bandwidth control, WRR flow control, IGMP Snooping, Link Aggregation Control Protocol (LACP). It can expand the interconnection between multiple devices into a backbone link channel, and at the same time control the bandwidth management of layer 2 and loop detection and prevention (Bandwidth control / Loop Detection) and other large-scale enterprise network security management. Using UTP cable to transmit network data and power to POE PD powered devices (such as AP, IP CAM, etc.), which can solve the limitation of the power outlet locations and offer the system relocation convenience.
The CS-3424G-24P is designed for office deployment and can be upgraded to 1U" chassis for server room installation. It is ideal for micro-segmenting large network into smaller networks, connecting subnets for improved performance, and enabling the bandwidth demanded for multimedia and imaging applications. Built-in 4 Combo Gigabit ports make this device perfect for fiber or RJ45 Gigabit uplinks, while maintaining gigabit speeds for connected Ethernet devices. Providing enterprise grade function at a competitive price point. Deploying CS-3424G-24P in your network can provide network organization and improved efficiency for your devices and clients. Administrators using Cerio CS-3424G-24P can meet the increasing management requirements when deploying Wireless AP or VoIP phone or IP Camera. Cerio's web-managed switches offer convenient configuration, premium performance, easy installation, and is sure to meet the increasing demands of growing networks.
Highlight Features
Complying with IEEE 802.3 10Base-T, IEEE 802.3u 100Base-TX, IEEE 802.3ab 1000Base-T, IEEE 802.3z 1000Base-SX/LX, IEEE 802.3af and IEEE 802.3at standards.

24port 10/100/1000Mbps TX Auto-Negotiation Ethernet Switch, Have 24 Port PSE/ PoE function, compliant with IEEE 802.3af and IEEE 802.3at standards.

Supports 4 Combo Gigabit uplink ports for connecting Mini GBIC 1000Base-SX/LX fiber modules for long distance network application or RJ45 Gigabit uplinks.

Supports Internal Bus Speed up to 56Gbps and the exchange rate over 41.664Mbps.

Supports PoE Green Power Energy Saving function to automatically detect connected devices and smartly direct necessary output wattage to only those ports to achieve green power saving.

Supports power up to 30W / 15.4W / 7.5W / 4W for each PSE/PoE port.

Supports PoE Control with scheduling capabilities and port-based control.

Internal 400 Watts power supply supports a maximum PoE power budget of 360 Watts.

Supports remote power control of PoE powered devices (PD), allowing web-based on/off/reboot control.

Full/Half-Duplex capability on each TX port, Auto-learning networking configurations.

Supports store & forward operation.

Supports flow control: back pressure for Half-duplex and IEEE 802.3x for Full-duplex mode.

Non-blocking & Non-head-of-line blocking full-wire speed forwarding.

Supports TP interface Auto MDIX function for auto TX/RX swap.

Automatic Source MAC Address Learning and Aging.

Provides 10K Jumbo frames to improve network utilization of a large file transfers.

Supports up to 8K MAC addresses and 4.1Mb Packet buffer.

Supports Surge Protection 6KV on RJ45 to avoid the damage of the switch and connected devices.

Supports VLAN and IEEE 802.1Q tag-base VLAN based on ports & VIDs; dd/remove/modify tag.

Supports Voice VLAN / MAC VLAN / Surveillance VLAN / Protocol VLAN and GVRP etc functions.

Supports Broadcast / multicast / unknown unicast storm control.

Provides IGMP snooping v1/v2/v3 function and supports MLD snooping and MVR functions.

Supports IEEE 802.3ad Link Aggregation LACP function.

Supports 802.1x protocol to support CHAP, EAP mode and port/MAC based network access control.

Supports RADIUS/TACACS+ and AAA Certificate function.

Supports MAC Address Table Management, It can grasp the MAC address which connected to the associated users and in case of set in or specified Port and VLAN group situation bind the MAC Address of the user's PC or network host device.

Supports MAC/IPv4 and DHCP Client and IPv6 Internet Protocol, IPv6 Auto-configuration mechanism and DHCPv6 Client and other functions to facilitate the setting and management of IP addresses.

Supports DoS (Denial of Service) Defense for enhanced network security.

Firewall Dos supports POD, LAND, UDP Blat, TCP Blat, Null /X-Man Scan Attack, TCP SYN-FIN/SYN-RST Attack, Smurf Attack and other defense function.

Supports Link Layer Discovery Protocol (LLDP) and LLDP-MED.

Supports DHCP Snooping function to prevent access by unauthorized hosts and DHCP servers and supports DHCP Option 82 and Option82 Circuit ID provides additional security.

Support setting the number of MAC users, IP and MAC binding and access control list (ACL), according to the limit of each port, which can be filtered by MAC and IP address.

Supports QoS Quality of Service, Port-based QoS bandwidth management, 802.1q priority Tag based with 8 priority Queues and 8 Weights.

Supports bandwidth control to set control traffic limits (inflow and outflow) for each port.

Supports Port Mirroring function.

Supports IEEE 802.1D Spanning Tree Protocol (STP), including BPDU Filtering and BPDU guard functions and IEEE 802.1w Rapid Spanning Tree Protocol (RSTP), IEEE 802.1s Multiple Spanning Tree Protocol (MSTP).

Supports Industrial Carrier Class ERPS(Ethernet Ring Protection Switching)helps to build a scalable Layer 2 converged network and achieve high reliability and network stability for service providers.

RMON (Remote Network Monitoring) provides network administrators with the ability to select networkmonitoring probes with features that meet their business network needs.

Supports IPSG (IP Source Guard) provides source IP address filtering on a Layer 2 port to prevent a malicious host from impersonating a legitimate host by assuming the legitimate host's IP address.

Supports UDLD (Unidirectional link detection), which can monitor the link status and prevent network problems.

Support ACL (Access Control List), including MAC ACL, IPv4 ACL, IPv6 ACL and other security control functions.

Supports local time and PC synchronization, also can manually setting. Supports SNTP time server and network time synchronization, automatically adjust the host and update, easy to understand the problem and restore.

Supports Event Log, Alarm Log, Security Log, Network Log, and Protocol Log.

Supports GUI display for monitoring network data status by port, traffic analysis by port, and device CPU and Memory loading for convenient administrative network analysis and management.

Software management service supports setting Console / CLI / Telnet / SSH / HTTP /HTTPS/SNMP.

Supports Simple Network Management Protocol (SNMPv1/v2c/v3) Web-based management interface.

Support DHCP Server advanced functions include DHCP IP Pool, DHCP VLAN IP Address group setting, Client Static Binding management and table control. And display DHCP client status list.

Supports DNS Client and DNS Server functions, can be set to operate as a DNS Server at the same time.

Support IPv4/IPv6 Static Route and Loopback local loopback port function. Which can take port virtualization as the specified loopback address required by the Layer 3 router function. It can be quickly completed the advanced application of the layer3 network setting.

Supports Layer3 function ARP(Address Resolution Protocol)used to map MAC addresses to IP addresses.
Hardware Overview 
Standards & Hardware Specifications

Standards Conformance

IEEE 802.3 10Base-T

IEEE 802.3u 100Base-TX

IEEE 802.3ab 1000Base-T

IEEE 802.3z 1000Base-SX/LX

IEEE 802.3az EEE

IEEE 802.3x Flow Control

IEE 802.1p QoS

IEEE 802.1Q VLAN Tag

IEEE 802.3ad Link Aggregation

IEEE 802.1x Authentication

IEEE 802.3af Power over Ethernet (15.4 Watt PoE)

IEEE 802.3at Power over Ethernet Plus(30 Watt PoE+)

Port Configuration

24 ports RJ-45 connectors for 10/100/1000 BASE-T and PSE/ PoE function

4 Combo Gigabit Uplink Ports

1 RJ45 Console Port

Hardware Reset

Reset Button for returning to factory settings

Power Switch

Hardware power on/off switch design

Grounding Port

Metal case design supports surge grounding and grounding port

Surge Protection

Supports 6kV surge protection on RJ45 port

ESD Protection

Air : 15KV , Contact : 8KV

Media Access Protocol

CSMA / CD

Network Media

10BASE –T: UTP Cat. 3 or up,

100BASE-TX: UTP Cat. 5 or up,

1000BASE-T: UTP Cat. 5 or up

Transmission Method

Store and Forward

MAC Address Table

8K

Built-in Buffer

4.1Mb

Jumbo Frame

10K

Data Transfer Rate

10/100/1000Mbps (Half-duplex)

20/200/2000Mbps (Full-duplex)

Auto MDI/MDIX

Yes

LED Indicators

Per Port: Link/Activity Status * 24

Per Port: 1000M/Gigabit Status * 24

Gigabit Combo Port: Link/Activity Status * 4

Gigabit Combo Port: 1000M/Gigabit Status * 4

Per Unit: PWR * 1

Internal Bus Speed/Exchange Rate

56Gbps/ 41.664Mbps

Switch Specifications

Link Aggregation

IEEE802.3ad LACP Link Aggregation Supported

Port Mirror

Supported

Quality of Service (QoS)

Supports IEEE 802.1p QoS, Port-based QoS

Bandwidth Control

Supported

UniDirectional Link Detection (UDLD)

Supported

Spanning Tree Protocol (STP)

IEEE 802.1D Spanning Tree Protocol (STP)
IEEE 802.1w Rapid Spanning Tree Protocol (RSTP)
IEEE 802.1s Multiple Spanning Tree Protocol (MSTP)

IGMP Snooping

Supports v1, v2, v3 and MVR

ACL Security Management

Supports IPv4 / IPv6 and MAC management

VLAN

IEEE 802.1Q Tagging VLAN , Port-Based ,Tag based VLAN

Virtual Network Management VLAN

Supports Voice VLAN / MAC VLAN / Surveillance VLAN / Protocol VLAN and GVRP

Port Security Management

Supports Broadcast / multicast / unknown unicast storm control

Authentication Security Protocol

Supports RADIUS / TACACS+ and AAA

DHCP Security Detection

Supports DHCP Snooping / DHCP Option 82/ Option82 Circuit ID

IPv6 Management Function

Supports IPv6 Internet Protocol, IPv6 Autoconfiguration mechanism and DHCPv6 Client

Remote Network Monitoring (RMON)

Supported

SNMP

Supports SNMP v1/v2c/v3

SNTP Time Server

Supported

Ethernet Ring Protection Switching (ERPS)

Supported

L3/Static Route

IPv4/IPv6 Static Route supported

L3/ Address Resolution Protocol (ARP)

Support ARP advanced setting

L3/DHCP Server/ DNS Server

IPv4 and IPv6 DHCP Server / DNS Server Supported

Environmental & Mechanical Characteristics

Power Type

400 Watts Internal Power Supply

PoE Power Budget

360 Watts shared for all PoE ports

Power Consumption

20 Watt (max. without PoE Device connected)

PoE Power Output

Up to 30W per port, 52V DC

Power Requirement

AC 100~240VAC, 50-60Hz Auto-sensing

Operating Temperature

 0° to 50° C

Storage Temperature

-40° to 70° C

Operating Humidity

10% to 90% non-condensing

Storage Humidity

10% to 90% non-condensing

Dimension ( W x D x H )

440 x 280 x 44 mm

Weight

3.84kg

Production Location

TW

Certification

FCC, CE, RoHS-compliant

Package Contents
CS-3424G-24P Main Unit

x1

Power Cord

x1

Console Cable

x1

Console Cable

19" Rack Mount Brackets

x1

Warranty Card

x1